Jailbreak iOS 5 On iPhone 4s, 4, 3GS:
Before we start elaborating on this and guide you through the procedure, you might want to know few things before you jump on it.This is a tethered jailbreak, now you might want to ask, what is tethered jailbreak? well, tethered jailbreak is when you have to Jailbreak your iDevice, which in this case, can be iPhone 4, 3GS, iPad 2 or any other newer or old version, when ever you boot or restart it, boring? you might want to wait for untethered jailbreak then!
Please NOTE that if you are planning to unlock your iPhone, then don't update to IOS 5. When you update your iDevice to IOS 5, it shall clear every thing up and give it a fresh start, which means your phone won't be unlocked any more, the main reason behind this is the updated baseband of IOS 5, this new IOS won't keep your old baseband, that will eventually force you to move onto new base band. Don't worry, you can wait for the next update by Redsn0w for their PwnageTool, which will find a way to keep intact your base band or some other way.
You also need to remember that Jailbrekaing is not supported by Apple and if you jailbreak your device, you might lose your iPhone or iDevice warranty. We also recommend you to first download the latest iTunes, in this case iTunes 10.5.
Following is the listed of devices, which are supported by IOS 5 Jailbreak using Redsn0w
iPhone 4 CDMA
iPhone 4 GSM
iPod Touch 3G and 4G
iPad 1
iPhone 3GS
it won't work with iPhone 4S and iPad 2
How to Jail Break IOS 5 Using Redsn0w 0.9.9 Guide
This is a step by step guide, i hope you find it useful.
Step 1: If you have not downloaded and installed these tools, please do so.
Step 2: In case you have already downloaded and installed all the items mentioned above, you can start with this step.
First of all you will need to sync your iDevice with iTunes through your computer. For that, you can do that by connecting your iDevce to your computer using USB cable and opening newly installed iTunes 10.5 and then restoring to IOS 5.
Step 3: Now you will need to execute redsn0w by clicking on it and follow the following.
Click the tab EXTRAS
Choose IPSW
Direct it to iOS 5 GM IPSW firmware file
Clicking on select button will out the following window and where you will be able to select the desired file.
Step 4: At this point, you will need to click on back button, the first screen will show up, there you will need to click on Jailbreak and then Check on "Install Cydia"
Step 5: Now that step 4 is done, we now need to get the iDevice into DFU mode, you can do that by following on screen instructions. DFU mode is important for jailbreaking.
Once its in DFU mode, hold power button and once screen shows up, press home button as well , you can release power button at this point, but keep pressing the button, soon your install will begin.
Congratulations, you have now jailbroken your IOS 5.
Jailbreak IOS 5 Video Using Redsn0w 0.9.9.b4: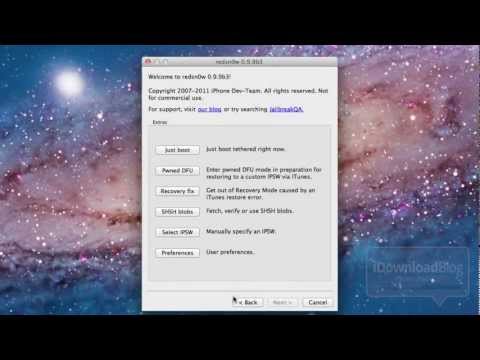 We look forward to your feed back.
Related posts: